[ad_1]
The case in which the Kenya Civil Aviation Authority (KCAA) is seeking to get back the land where Weston Hotel is built has taken a new twist after Deputy President William Ruto refused to compensate the governmental body.
The National Land Commission had earlier this year ordered Weston Hotel, which is owned by Ruto, to pay KCAA Sh200 million as compensation for the piece of land where its built.
NLC had established that Ruto's hotel was built on public land after the DP purchased it from a third party, Priority Limited, who had no legal claim to the land.
However, Ruto's lawyers have now told a Nairobi court that they would not pay the compensation to KCAA as doing so would amount to an unfair double payment for a piece of land which they had already paid to Priority Limited.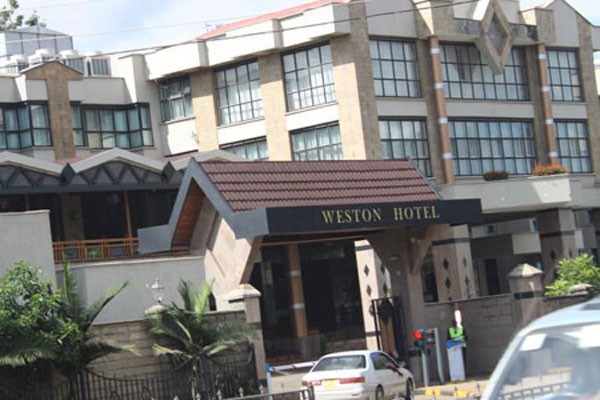 File image of Weston Hotel

Double Compensation
"Weston Hotel is a bona fide purchaser of value without notice contrary to the misleading assertion that the land was illegally and fraudulently acquired, the first respondent (NLC) did not make such determination. The petitioner (KCAA) deliberately sensationalized the above finding by omitting from its petition that the second respondent was found to be an innocent purchaser."
"The petitioner herein should thus not be compensated twice, if the order for compensation were to be enforced, it would amount to the promotion of unjust enrichment," Michael Nzile told the court on behalf of Weston's directors.
Nzile added that Weston Hotel had long completed paying for the land and was not willing to compensate KCAA which he claimed was engaged in a political witch hunt.
KCAA, which is represented by lawyers Otiende Amollo and Stephen Ligunya responded by indicating that it wasn't interested in being paid by Weston but was only interested in getting back its land.
[ad_2]
---
Would you like to get published on this Popular Blog? You can now email Cyprian Nyakundi any breaking news, Exposes, story ideas, human interest articles or interesting videos on:
[email protected]
Videos and pictures can be sent to
+254 710 280 973
on
WhatsApp
, Signal and
Telegram.
---
Comments
comments